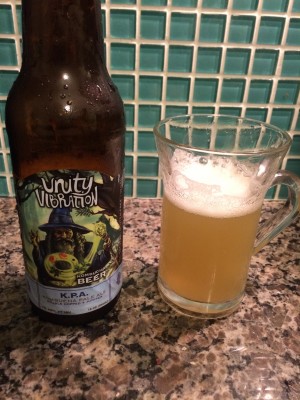 Kombucha beer has emerged as an entirely new style of beer. Combining the health-centric characteristics of fermented Kombucha tea, with elements of traditional beer, this hybrid brewing process has created a new, and interesting new category of naturally gluten-free beer.
This one-of-a-kind K.P.A. (Kombucha Pale Ale) is my first foray into Kombucha beers. In terms of tasting, this drink really was a hybrid. Half pale ale, half kombucha, and totally different than anything I've tasted before. I hear that kombucha is an acquired taste, and I admit I haven't acquired it yet. I'd love to get the perspective of this hybrid beer from a kombucha drinker, but for me, this was a strange tasting experience.
Tasting Notes:
Look:  cloudy opaque, pale yellowish color with a very bubbly , 3-finger head, that settled quickly.
Smell: the hops in this brew give it a strong floral smell that is associated with pale ales, along with light citrusy notes.
Body: pale, thin and very carbonated.
Taste: Since the smell indicated that this was a pale ale, I was in for a bit of a shock when I sipped it and got a sharp, carbonated, and very citrusy, taste that finished a bit like hopped grapefruit with a hint of juniper Sound strange? For me It was. I'll admit that this brew took me off guard, and never quite settled right with me.
If you go into this expecting a beer you may be disappointed, but if you go it with an open mind you may be pleasantly surprised,
Brewed by Unity Vibration in Ypsilanti, Michigan.
website: unityvibrationkombucha.com
Double hopped + Juniper
7% Alcohol by volume