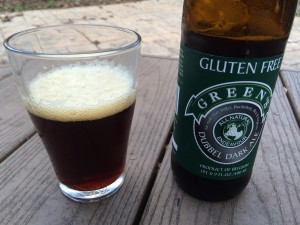 When it comes to quality gluten-free beers, before there was gluten-removed there was Green's. And this is one my my long-time favorites.
A true gluten free beer, this dubbel is brewed with roughly twice the ingredients, and you can tell. For those of us that can't drink normal "gluten beer", a dark beer like this is a excellent treat.In fact in my many years of drinking gluten free beer, this is the darkest beer I've tasted. In my opinion, this beer is worthy of "treat" status.
Tasting notes:
Look – rich, dark brown and reddish color with a 1 finger whispy foamy head
Smell – sight dark chocolaty and earthy
Body– dark and creamy
Taste: dark chocolate and licorice overtones. carbonated. Slight bitter sorghum aftertaste.
Dubbel · 7.0% ABV