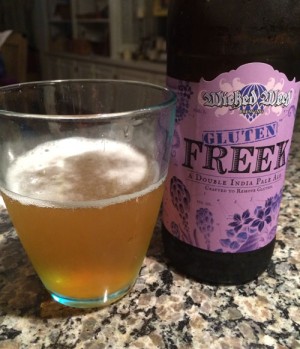 The flowers on the label aren't just there for decoration, they seem to be a reflection of the contents in this hoppy gluten-removed beer.
This self-proclaimed "West Coast Style" India Pale Ale has a light-blonde color and a strong, flowery, lavender smell.  In fact, my wife said, "It smells like purple."
This double IPA really does has double the flavor of some gluten free IPA's I've tasted.
As floral as it comes on at the beginning, this beer is equally as bitter on the backend.This strong bitter tasting finish is in fact the thing I like least about this beer. But for this same reason, I expect diehard IPA fans will love it.Its worth trying, and has lots of body and character, but I don't think I could drink more than one in a sitting.
Wicked Weed Brewing Company
Asheville, North Carolina, USA
7.5% Alcohol by volume.
labeled: Gluten < 20PPM