Stone Delicious IPA with Lemondrop and El Dorado Hops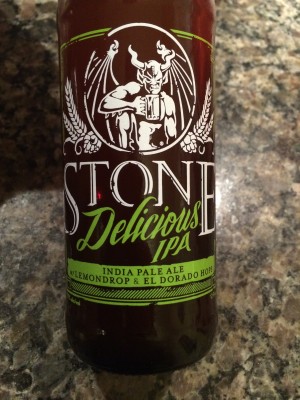 Very hoppy with a strong, delicious, yet bitter lemon taste that blends very well, and makes this IPA a standout, and a must-taste for any fan of Indian Pale Ales.
Stone Brewing Company categorizes this beer as " Crafted to remove gluten. They have batches of beer independently tested for gluten and have the results of these tests on their website where each batch is listed as "under 10 PPM".
I've had a half a dozen of these beers in the past year and I haven't noticed any gluten-type effects. However, as with all gluten-removed beers, if you have celiac disease, I advise you use caution, and your own discretion when considering consuming gluten-removed beer.
7.7% alcohol by volume
Originally released in January 2015
For More information about this beer visit the Stone Delicious IPA page on the Stone Brewing Website.