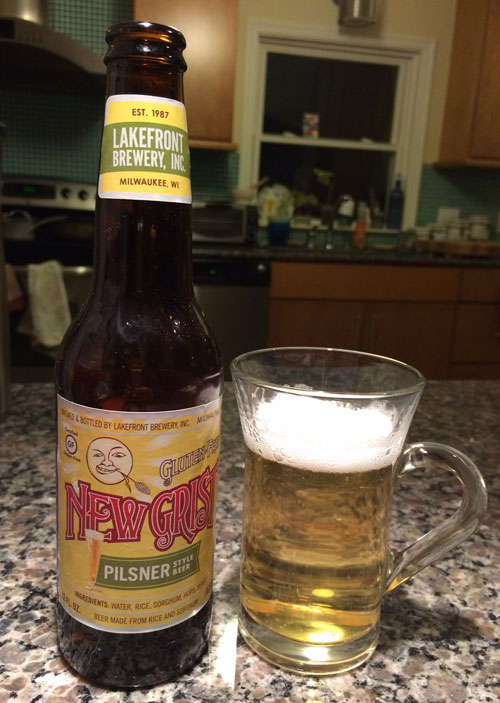 New Grist Pilsner was one of the first gluten free beers I encountered that was worth drinking. This sorghum-based pilsner style beer is well-crafted and widely available. It has become a staple at gluten-free friendly beer stores and restaurants.
This was the very first gluten free beer to be granted Gluten Free designation by the US Government.
New Grist was ground-breaking at the time, but the gluten-free beer industry has grown and evolved over the years, while this beer hasn't. It is truly a sorghum beer. Where other gluten free beers are successful because they mask, or lessen the sorghum taste, this beer is defined by the sorghum taste. It's inescapable, sorghum is central to the favor of this beer.
This was not a problem 10 years ago when so many of us gluten-free people were beer-deprived. We were greteful to get whatever was available! But in the current age of highly crafted sorghum beers and gluten-removed beers, it just one doesn't standup.
Look –very light colored, I can easily see through the glass, almost looks like ginger ale
Smell – light and slightly-fruity
Body – light and bubbly
Taste – smooth, well-balanced, light pilsner taste. Reminds me of a light beer, until you get to that familiar bitter sorghum aftertaste
5.1% Alcohol by volume
Brewed and bottled by Lakefront Brewery, Milwaukee, WI
Website: lakefrontbrewery.com